Fast, Efficient Label Design Software
Anywhere. Anytime. Any Printer.

CREATE CUSTOM COMPLIANT LABELS AND SIGNS
Smart: LabelForge PRO is the most advanced industrial labeling software available to the safety industry.
Compliant: LabelForge PRO software includes thousands of ready-to-print OSHA, ANSI/ASME, NFPA compliant labels, along with Arc Flash templates and a HazCom/GHS chemical database.
Easy: Built-in signage templates and 1,800+ symbols make custom label creation fast and easy.
Proven: Thousands of safety and maintenance managers use LabelForge PRO to increase workplace safety, productivity, and efficiency.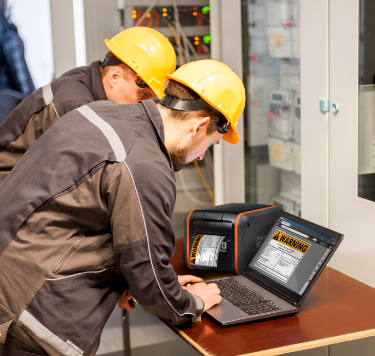 WHY CHOOSE LABELFORGE PRO?
Communicate In Your Native Language


LabelForge PRO gives you the ability to change your software interface and keyboard layout to your desired language. Users can design and print faster compliant, custom labels in 14 languages.

Faster Setup Time


Efficient, time-saving capabilities with automated printer settings based on supplies loaded

Always OSHA Compliant


Improve safety with reliable, ready-to-print OSHA, ANSI/ASME, HMIS labels
WHAT LABELFORGE PRO CAN DO FOR YOU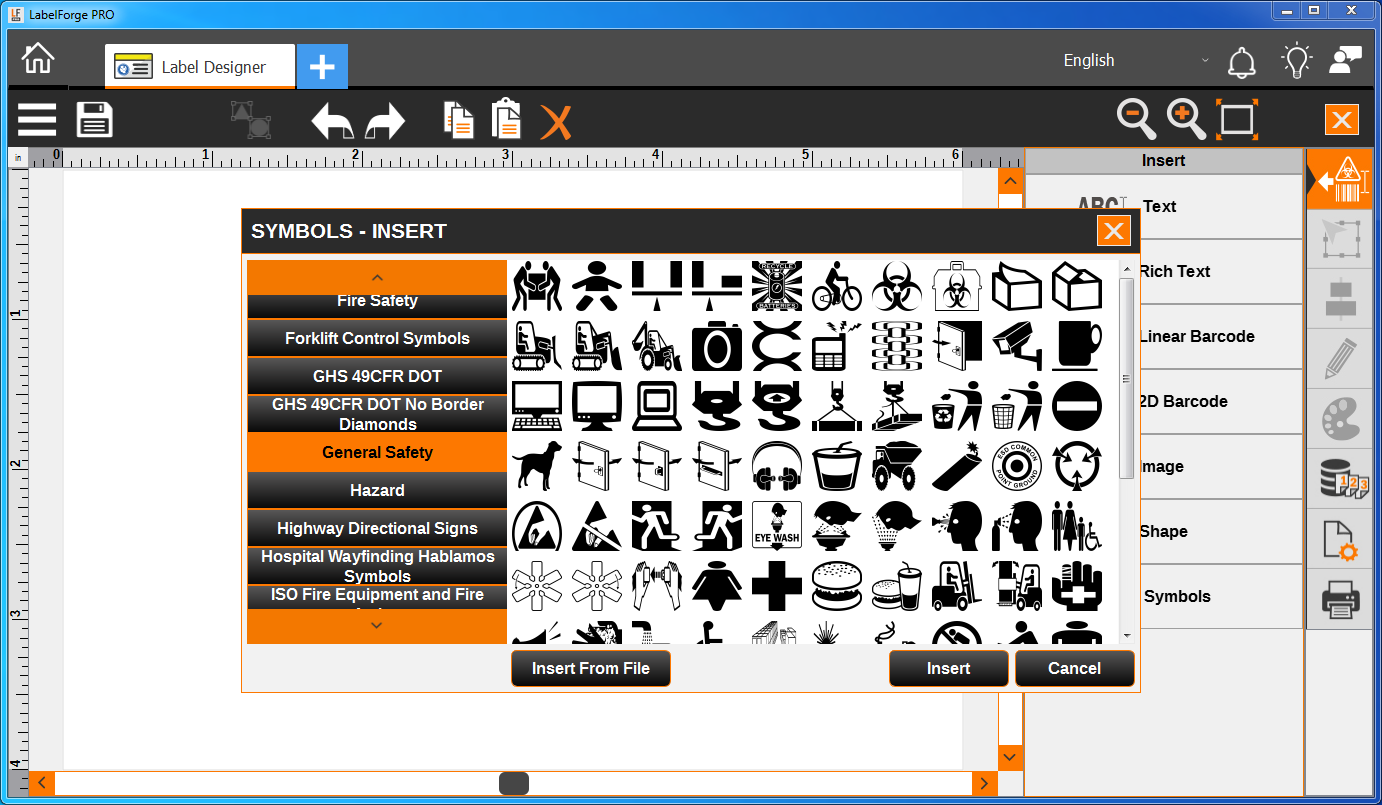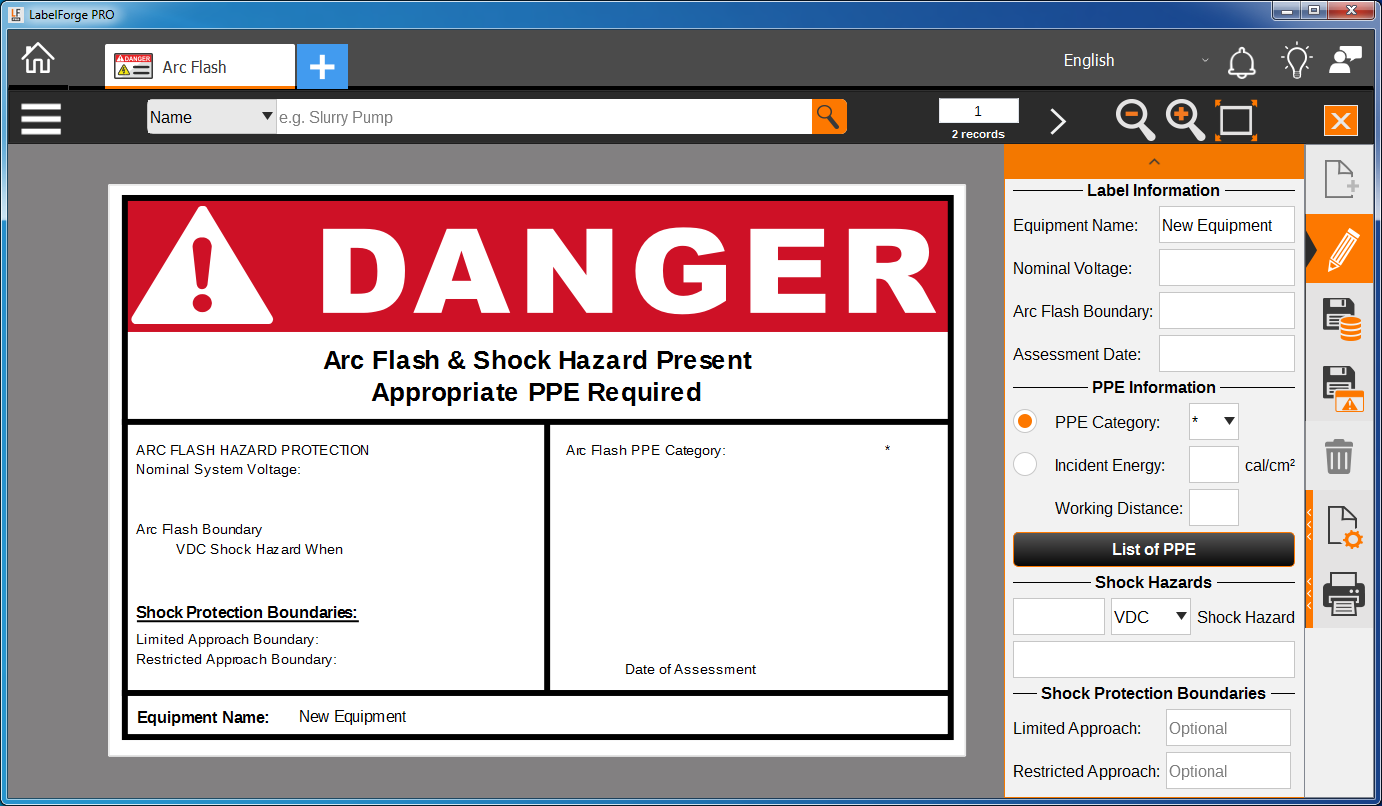 Your own library
▶▶
Search the Arc Flash and HazCom databases to design preloaded, ready to print labels
1000's of symbols and
templates simplify compliance
Compliance-focused software modules simplify the process
Quickly build labels
from scratch or modify
prebuilt templates
Design and print
labels in seconds
GET COMPLIANT FAST WITH FREE TEMPLATES
Label Designer
Create custom signs, symbols, and messages.
Arc Flash Module
NFPA 703 2021 standards with formatted templates.
Pipe Marking Module
ANSI/ASME 13.1 standards and indicate flow direction
Chemical Labeling Module
Produce the HazCom compliant label you need from the library of hunderds of chemicals.
NFPA Label Module
Build NFPA compliant signs with preset diamond and ready to use
PPE symbols.
Lean Manufacturing
Develop 5s labels. Improve employee efficiency and safety.
Design and print labels in seconds
Utilize thousands of preloaded, ready-to-print compliant signage templates or quickly build labels from scratch. With just a few clicks, you can find the perfect template that matches your brand's style and instantly create eye-catching labels that stand out from the competition.
Instant Access to Arc Flash and HazCom Databases
No need to waste valuable time transferring data manually or adjusting templates. Our software automates the entire process, generating print-ready labels at the click of a button.
Create all styles of barcodes and QR codes
LabelForge Pro effortlessly tailers to your specific needs. From UPC codes to data matrix barcodes, our software covers it all, ensuring seamless integration into your operations.
Merge spreadsheets seamlessly
Say goodbye to manual data entry and let our software do the work for you, reducing errors and saving valuable time with our batched barcode and label sequencing functionality.
Access a comprehensive knowledge hub
Dive into hundreds of how-to videos, detailed manuals, and step-by-step guides available on our user-friendly website. Whether you're a novice or an expert, our resources will empower you to master the software in no time.
Frequently Asked Questions
What languages does LabelForge Pro support?
It supports 14 languages, including: English, Spanish, French, German, Danish, Finnish, Italian, Dutch, Norwegian, Polish, Portuguese, Russian, Swedish, and Turkish.
New LabelForge PRO allows users to change the software interface and keyboard layout to their desired language, and quickly design and print compliant or custom safety labels and signage in the world's most common languages.
What printers does LabelForge PRO work with?
LabelForge PRO works with all of the following Graphic Products DuraLabel printers:
Toro Max

Bronco Max

Kodiak

Toro*

Bronco*

DLP 300*

Catalyst*

DLP 4000*
What are the system requirements for LabelForge PRO on my PC?
Windows 10® or above. 4GB RAM
Can I use LabelForge PRO with any printer on my network?
Yes. Simply find the printer. Click PRINT. You're done.
How long does it take to download and install?
Under a minute. Depending on your connection speed.
The LabelForge PRO application size is 26.6 MB.
Does LabelForge PRO work with a Mac®?
No, LabelForge PRO does not run natively on a Mac®.
Installing LabelForge PRO on Your PC
Via Flash Drive
Connect the software flash drive to your computer. When the startup screen appears, choose

Install LabelForge

PRO.
Accept the license agreement and click Next.
Choose an installation directory; by default, this will be "C:\Program Files (x86)\LabeForge." Pro." Then, click Next.
Review the installation details and click Finish to install

LabelForge PRO. You will see a progress bar as the software is installed.
How To Use Images in Label Designer
How To Import Legacy Files Into Label Designer
How do you merge an Excel spreadsheet to LabelForge PRO?
Open Label Designer module, click 1,2,3 icon on the right side menu. Choose XL or XLSX spreadsheet file type, then click add and browse to search computer for the spreadsheet you'd like to merge. Multiple spreadsheets can be added to the template using the same merging process.

Don't see your question?
Chat or call a customer satisfaction specialist.
GET HELP NOW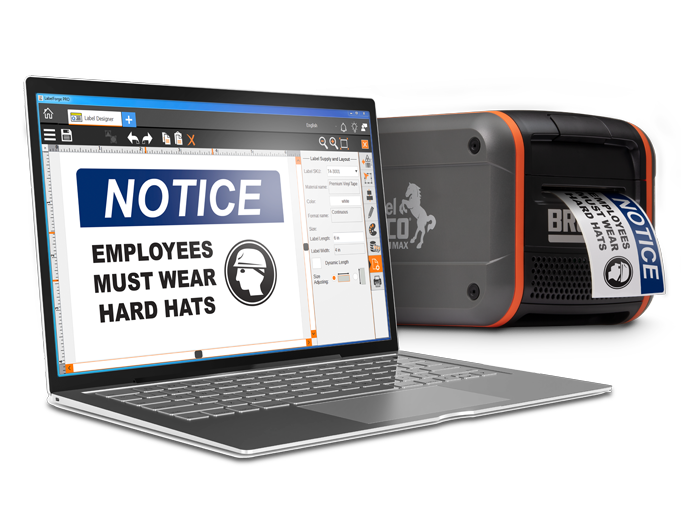 Anywhere. Anytime. Any Printer.
Get the latest deals straight to your inbox
Trusted by These Companies